The

Perfect Cut Every Time

We provide the most competitive prices on mowing services in Middle Tennessee. If your home or business is located in Franklin, Brentwood or even Nashville, you owe it to yourself to get a no obligation estimate from Green Scene Irrigation and Landscaping.

A beautiful lawn requires good soil, water, fertilization and sun light. But it also requires scheduled and specific cutting heights for your grass variety. Cutting your yard too high or too low can actually cause damage to your lawn. For an exact cut, you need professional equipment.

That's one reason Green Scene Irrigation and Landscaping uses only professional grade mowers. You can trust us to give your lawn the perfect cut - every time! With the challenging and sometimes steep terrain of Middle Tennessee landscapes, it's better to trust professionals.

Want a great looking yard? Know your grass and its recommended mowing height. And always trust the professionals at Green Scene!

 

Tall Fescue Grass
It may be surprising to learn that Fescue grass grows best at heights of 1½ to 3 inches. For Middle Tennessee lawns, it should trimmed to three inches! One of the most common mistakes made is cutting Fescue too low. When you cut Fescue too low, your grass loses too much moisture causing it to dry out.
Eventually, it will begin to thin and become more weed prone. Overseeding is always a requirement with Fescue, but you can aid your yard by observing good mowing habits. Green Scene can make sure your lawn gets a perfect cut.
419 Tif Bermuda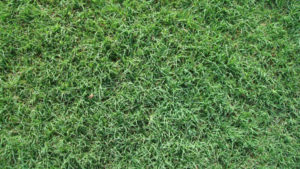 Although Bermuda loves a good low trim, you must be careful to mow no more than 1/3 of the leaf each cutting. If you trim more than 1/3 of the blade, you'll notice that your yard is a shade of brown. Why? Only the top 1/3 of Bermuda grass is green. The remaining is the trunk of the plant and brown.
Since Bermuda is extremely hearty, you'll probably not irrevocably damage your yard. But it will temporarily stunt your grass and take longer to green back up.
Why take a chance on improper cutting? Green Scene has the equipment and skill to give your Bermuda yard that country club feel!
Zoysia Grass
Zoysia grass performs best when mown at heights of one to two inches. Because of the high silica content in Zoysia, grass blades become tougher the longer each leaf is allowed to grow. Scalping becomes a problem if the grass is allowed to grow too high.
Want a great cut? Then mow regularly at the prescribed height. Green Scene can help set up a maintenance schedule designed specifically for your Zoysia yard.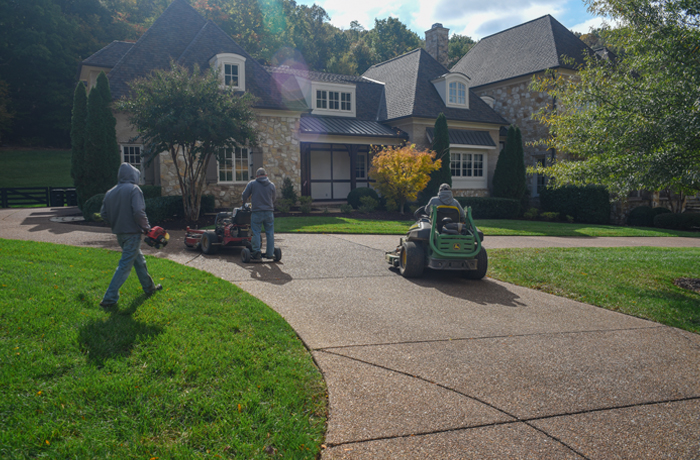 Our professional crew arrives & ready to work.
Cutting the steep hills is no challenge for Green Scene experts.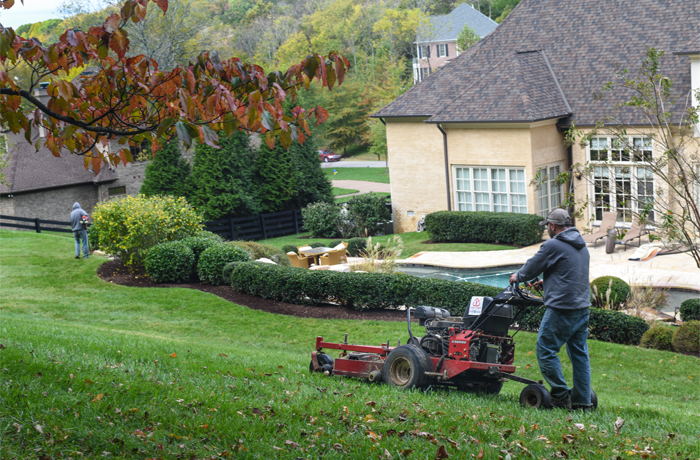 From trimming to cutting, Green Scene can handle it all.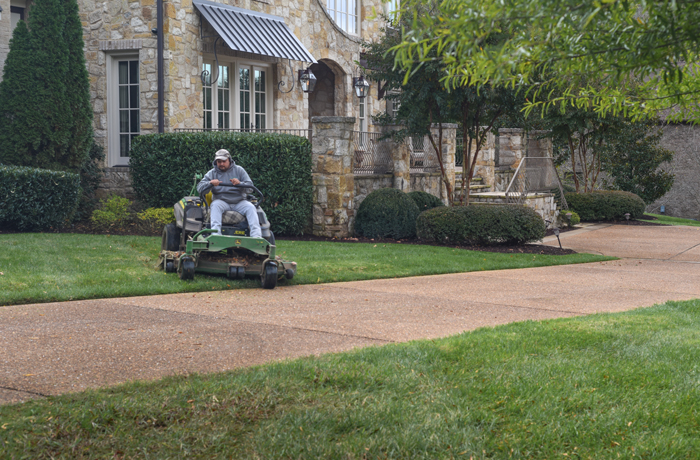 Our zero turn equipment allows for fast, efficient grass cutting.
Green Scene keeps your yard in the yard.
Trust your lawn to the pros
Without the proper equipment, it's difficult to maintain a beautiful, healthy yard. That's why homeowners across Middle Tennessee in Brentwood, Franklin and Nashville trust Green Scene Irrigation and Landscaping with their yards.
  Professional mowing equipment
  Skilled & knowledgable work crew
  Customized mowing and edging plan
  Guaranteed on-time, perfect cut
  Saves your valuable time 
Green Scene Irrigation and Landscaping uses only professional grade equipment and trained technicians. You want a great yard. It's one of the reasons you hired us. We get that. Our goal is to deliver every time!
We understand you have a schedule. We'll be there. When you contract with Green Scene Irrigation and Landscaping for mowing and trimming services, our commitment is to always be there on time.
Green Scene Irrigation and Landscaping is a family owned business that truly appreciates our loyal customers. Your satisfaction is critical to the success for our business. Getting it right is the only way we do business!