Spring

is here!

The Robins are back, and the Mockingbirds are singing. The days are slowly growing longer, and it's almost time for that first grass cutting.  Yep, all signs point to Spring!

And it's also time to fire up the irrigation system again! Whether Green Scene winterized your system or someone else, we recommend a thorough diagnostic check-up of your backflow, pipes and operating system. This event should be a fairly uneventful process, but occasionally there are unseen surprises. 

 

CHECK FOR POSSIBLE WINTER DAMAGE

While Mid-Tennessee isn't known for brutally cold winters, we still have enough freezing temperatures to cause problems. PVC pipes are susceptible to freezing and can become compromised. Water in non-winterized pipes freezes and expands causing leaks. Those leaks degrade  your irrigation system and lead to high water bills. Our trained staff at Green Scene can perform a complete test of your existing system to check for pipe pressure and leaks. Should any issues arise, we can perform most required repairs during the same visit!

 

TENNESSEE REQUIRES ANNUAL BACKFLOW INSPECTION

Every homeowner irrigation system is required to have backflow protection to ensure the safety of the public water supply. That means your system must be tested and inspected annually. While community inspectors will evaluate your system, you are required to have a compliant system.

If your system fails during this mandatory inspection, you will be charged for that evaluation, instructed to have repairs made and charged again for another inspection! Green Scene evaluates and repairs all backflow prevention systems. We'll make certain your system passes inspection - the first time!

You had an irrigation system installed to make your yard work easier. Green Scene Irrigation and Landscaping is your worry-free, trouble-free, money saving solution!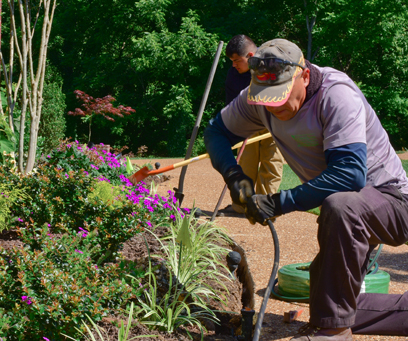 Green Scene can repair any irrigation system.
Trouble-free operation all season long.
Green Scene Irrigation and Landscaping can inspect and repair your backflow equipment for mandatory state compliance.
Spring Start-up Benefits
It's your insurance policy for a trouble free irrigation system all year long. Whether we installed your system or someone else, it's time to trust your system and landscape to the professionals at Green Scene Irrigation and Landscaping.
  Efficient watering system for your lawn & landscape
  Economical use of water
  NO WATER WASTE - Environment friendly!
  Comprehensive evaluation of pipes, water pressure & operating system
  Compliant Backflow Prevention Guarantee